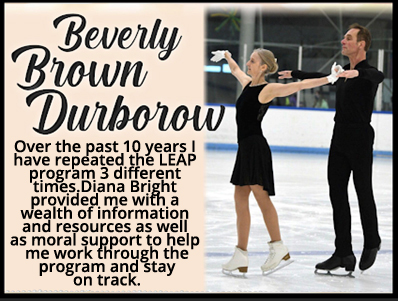 I first began the LEAP program after an RN friend recommended it in 2012. I had suffered with debilitating headaches, itchy skin rashes, brain fog and sore joints for several years. I was past the point of just repeatedly treating my symptoms. I wanted to feel good again and I believed these health issues were not typical or "normal" for getting older.
Since beginning the LEAP program I have noticed a marked improvement in my health and wellbeing. Over the past 10 years I have repeated the LEAP program 3 different times. Food sensitivities can change over time and food sensitivities are different from food allergies. Along with doing the LEAP program I worked with Diana Bright, RD, and Certified LEAP Dietician. She provided me with a wealth of information and resources as well as moral support to help me work through the program and stay on track.
I am a physical therapist and a competitive Adult Figure Skater. I have work and a workout schedule that I would not possibly be able to continue if I had not taken care of my unique dietary needs. I was eating "healthy" foods all along before beginning the LEAP program, but some of the things I ate caused me to have these adverse symptoms. I learned to avoid certain symptomatic foods and how to gradually work some of these foods back into my diet. I also learned that I have unique responses to the foods I eat and just eating a healthy diet may not be enough to keep me feeling well.
I recommend the LEAP program to anyone suffering from debilitating symptoms or wanting to improve their health and wellbeing for their best active life.
Beverly, Durborow, PT, MS PT